08 May 2017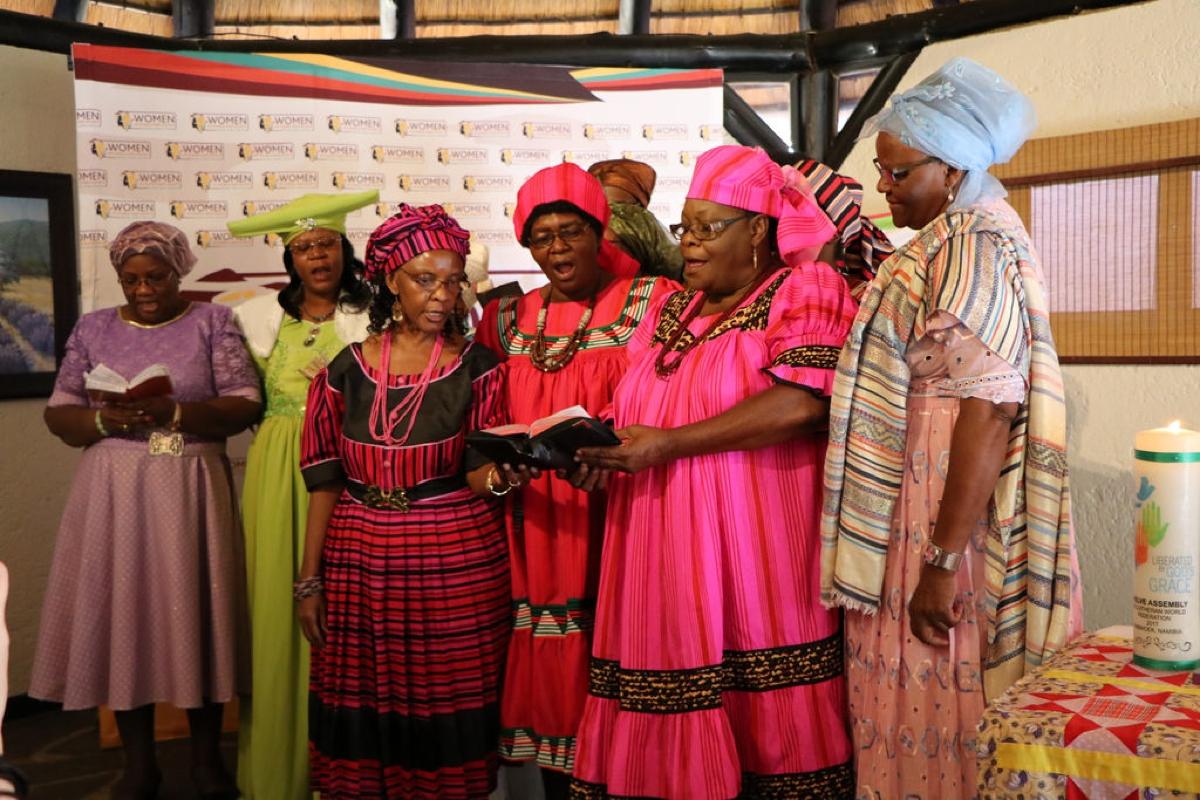 "A vision of what matters to God in a world gone bad"
With a colorful worship service by the Female Theologian's Forum of the Evangelical Lutheran Church in Southern Africa (ELCSA) the Women's Pre-Assembly in Windhoek, Namibia, began. From 6 to 9 May up to 100 women from the member churches of the Lutheran World Federation (LWF) are gathering in Namibia's capital to prepare for the Twelfth Assembly. On behalf of the United Church Council – Namibia Evangelical Lutheran Church (UCC-NELC) Bishop Ernest //Gamxamub, as well as the LWF General Secretary Rev. Dr Martin Junge greeted the pre-assembly.
Hagar and today's women suffering from despair
Rev Liliana Kaspar (ELCSA) preached on Genesis 16, 1-16 – the story of Hagar, Sarai and Abraham. "Who is Hagar?" she asked: "An outsider in terms of social position, gender, race, and age. She is one of the oppressed. She is a victim." As a no-name woman she does not have a choice when Sarai sends her to have a child with Abram since she herself has not fallen pregnant, despite God's promise that this would happen. When Hagar ends up pregnant, deserted and alone in the desert, it is God who sees her, speaks to her, calls her by her name and gives her a promise like the one once given to Abram.
"Hagar's story is one of those stories in the Bible that gives us a vision of what matters to God in a world gone bad," Kaspar concluded. This also applies to today's Hagar's: "the women who suffer the degradation and despair of forced labor and sexual trafficking." She called on the pre-assemlby not only to see the suffering in this world but also to become active to change this in God's name.
Words of greetings from Bishop //Gamxamub and LWF General Secretary Junge
Bishop //Gamxamub welcomed the women to Namibia as "women with a mission, spiritual daughters of a very awesome and unique woman – Katharina von Bora, women on the move from Wittenberg to Windhoek." Reflecting on women "on the African continent and here at home in Namibia" he pointed out women's achievements: "We have fairly reasonably representation of women at policy and decision making levels; representation of women on senior management levels and at boards have taken a growing turn in Namibia." However, there are also those who suffer from poverty and who, together with children "are the most vulnerable." //Gamxamub concluded that women's "continuous struggle … is an ongoing march." He called on the pre-assembly to "take everybody along with the bold inscription: our survival – your survival!"
LWF General Secretary Junge made special reference to the Reformation Anniversary which will be commemorated at the Twelfth Assembly. "The Reformation commemoration in 2017 is not the endpoint, it is a milestone on a continuing journey," he pointed out.
Referring to the LWF quota policy he said that thirty-three years ago, at the Assembly in Budapest, Hungary, the LWF had decided to implement the quota. Since then 40% women, 40% men and 20% people under 30 years of age should make up all the decision-making bodies of the LWF. "We need this quota even today," Junge is convinced. "It still doesn't come naturally." He appealed to the Women's Pre-Assembly to contribute to the Twelfth Assembly with its wisdom, gifts and commitment "to help the communion as a whole to move forward."