01 February 2017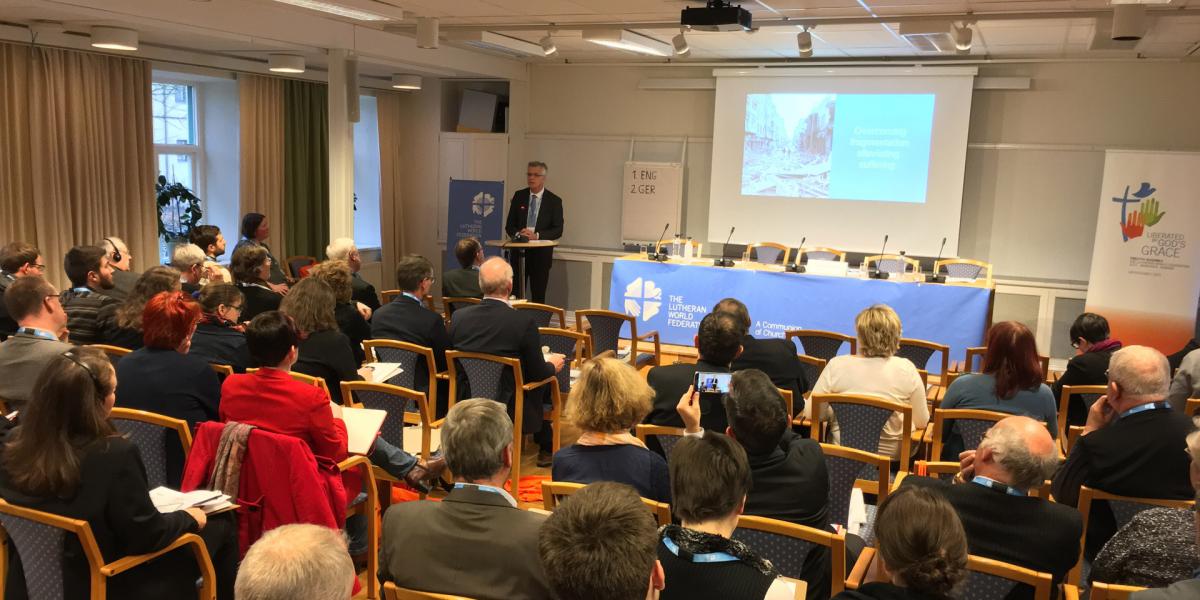 Delegates from three LWF regions meet in Höör, Sweden
(LWI) – "The Pre-Assembly in Europe is an important meeting on the way to the global gathering of Lutheran churches, the LWF Assembly," Rev. Dr Ireneusz Lukas, area secretary for Europe at the Lutheran World Federation (LWF) says, adding that the regional meeting offers an opportunity to reflect on the themes of the Assembly. "We will worship together, we want to learn from each other and we want to look to the future. We are preparing for the Assembly in Windhoek, but we also hope to strengthen the communion of churches in Europe."
The Europe Pre-Assembly gathers representatives from the three European regions of the LWF in Höör, Sweden, 31 January-3 February. The Church of Sweden will host the gathering of around 90 people, including delegates from LWF member churches in the three regions of Europe. 
Participants will discuss how the Assembly theme "Liberated by God's Grace," and its three sub-themes relate to the different contexts and experiences in the region and how this should be articulated at the Assembly. They will also learn about the processes and methodologies of the next Assembly to be held in May in Namibia.
The Archbishop of Sweden, Dr. Antje Jackélen, welcomed delegates during an opening worship on 31 January. LWF European region vice-presidents Frank July (Central Western Europe), Helga Haugland Byfuglien (Nordics) and Tamas Fabiny (Central Eastern Europe) are presiding at the pre-assembly at which key speakers include LWF General Secretary Rev. Dr Martin Junge and Bishop Burgert Brand from the German Evangelical Lutheran Church in Namibia.
Sustainable Development Goals, women and youth
One of the items on the agenda is discussion on the United Nations Sustainable Development Goals, which the LWF has endorsed as part of its long-term commitment through the work of its member churches and country programs around the world. In Höör, delegates will assess the respective priorities of churches in view of the 17 global goals in the context of existing engagement. A recent report of the European Diakonal Solidarity Group "Towards a Convivial Economy" will be presented.
A discussion on "European Challenges and the Role of Churches" will take place on 1 February. It will begin with a keynote speech by Rev. Rüdiger Noll and continue with a discussion where the three LWF vice-presidents offer regional perspectives.
In the first part of the Pre-Asseambly a message from the women's networks participating in the Women in Church and Society program will will be presented. As part of preparations for the global Youth Pre-Assembly, a meeting of youth delegates from the churches will take place during the regional gathering. They will present a message to the Pre-Assembly.
Preparing for the Assembly
Pre-Assemblies for Asia, Latin America and the Caribbean as well as North America were held in August and September in Bangkok, Thailand and Paramaribo, Suriname respectively. The Pre-Assembly for Africa will be 5 - 11 February in Johannesburg, South Africa. The global Youth Pre-Assembly will take place in Ondangwa, north Namibia, 3 - 9 May, and the Women's Pre-Assembly delegates will meet 4 - 9 May in the Namibian capital, Windhoek.
The three Lutheran churches in Namibia will host the Twelfth Assembly in Windhoek, 10-16 May. Around 370 LWF member church delegates are among the 800 participants expected at the event that will include a commemoration of 500 years of the Reformation.  
The Assembly is LWF's highest-decision making body, convening delegates from all the member churches every six to seven years.