10 April 2017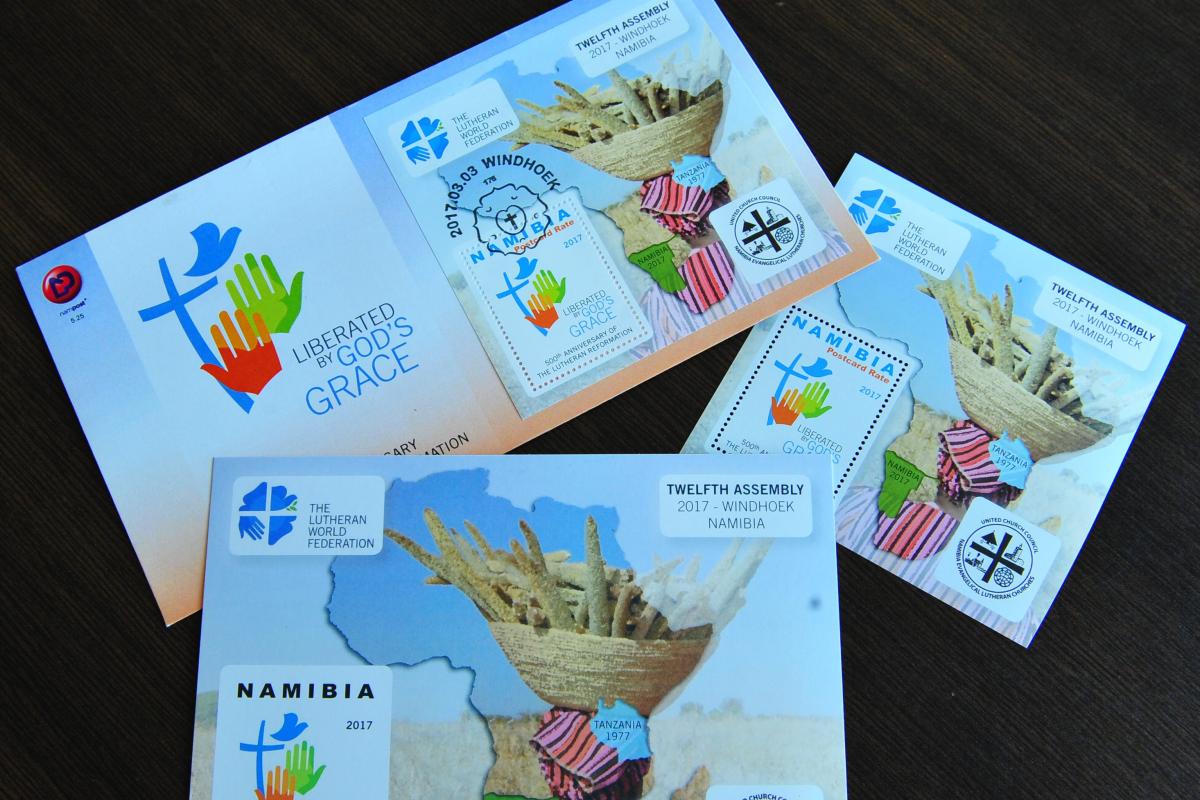 (LWI)  – As the Twelfth Assembly of the Lutheran World Federation (LWF) which is held in Windhoek, Namibia, from 10 to 16 May draws closer, NamPost - Namibia Post - is issuing a first day cover, a single stamp souvenir sheet and a post card stamp taking up the commemoration of 500 years of Reformation.
The design shows the outline of the African continent and of the two African countries that have been selected as venues for Assemblies of the LWF: Tanzania in 1977 and Namibia in 2017. They also show a Namibian woman balancing a basket filled with Mahangu on her head. Mahangu is a type of pearl millet grown in northern Namibia and a staple food in these rural areas.
The Assembly logo and the theme "Liberated by God's Grace" are placed prominently on the stamp and the left side of the first day cover. During the Assembly, the LWF will host a global commemoration of the 500th anniversary of the Reformation in Sam Nujoma Stadium on 14 May with Assembly delegates from all over the world, the Namibian Lutheran churches hosting the Assembly and numerous ecumenical guests.
Lutherans in Namibia
The text insert of the first day cover speaks of  the introduction of Christianity in Namibia:
The Lutheran doctrine was first introduced to local Namibians by the missionary Carl Hugo Hahn and his colleagues in 1857. Hahn translated the New Testament into Otjiherero, aided by Johanna Gertze, his employee and interpreter. The Finnish Missionary Society extended the Lutheran faith to Ovamboland in 1859, driven by key missionaries such as Martin Rautanen, who worked among the Ovambo people for 50 years and translated the New Testament into Oshindonga (published in 1903). The Bible has since been translated into most other Namibian languages. The first synod in Namibia was held in 1956 and the Evangelical Lutheran Church in South-West Africa, today the in Evangelical Lutheran Church in the Republic of Namibia, was constituted in 1957.
Invitation to the Reformation Commemoration
The Local Assembly Planning Committee in Namibia will use the commemoration stamp to draw attention to the Assembly and the Reformation Anniversary, and is inviting Namibians to participate.  A total of 3,300 first day covers, 20,000 single stamp souvenir sheets and 15,000 post cards were issued.  They will be available as souvenirs for delegates and interested members of the public. A special date stamp canceller with the date 14 May 2017 - the Sunday of the Global Commemoration of the 500th Anniversary of the Reformation - will be released to be used during the Commemoration.
The first day cover, single stamp souvenir and post card can be ordered online at NamPost http://www.nampost.com.na/shop/index.php?dispatch=categories.view&category_id=110. They are also available at all post offices in Namibia and will be sold at the Omatala during the Assembly.