11 May 2017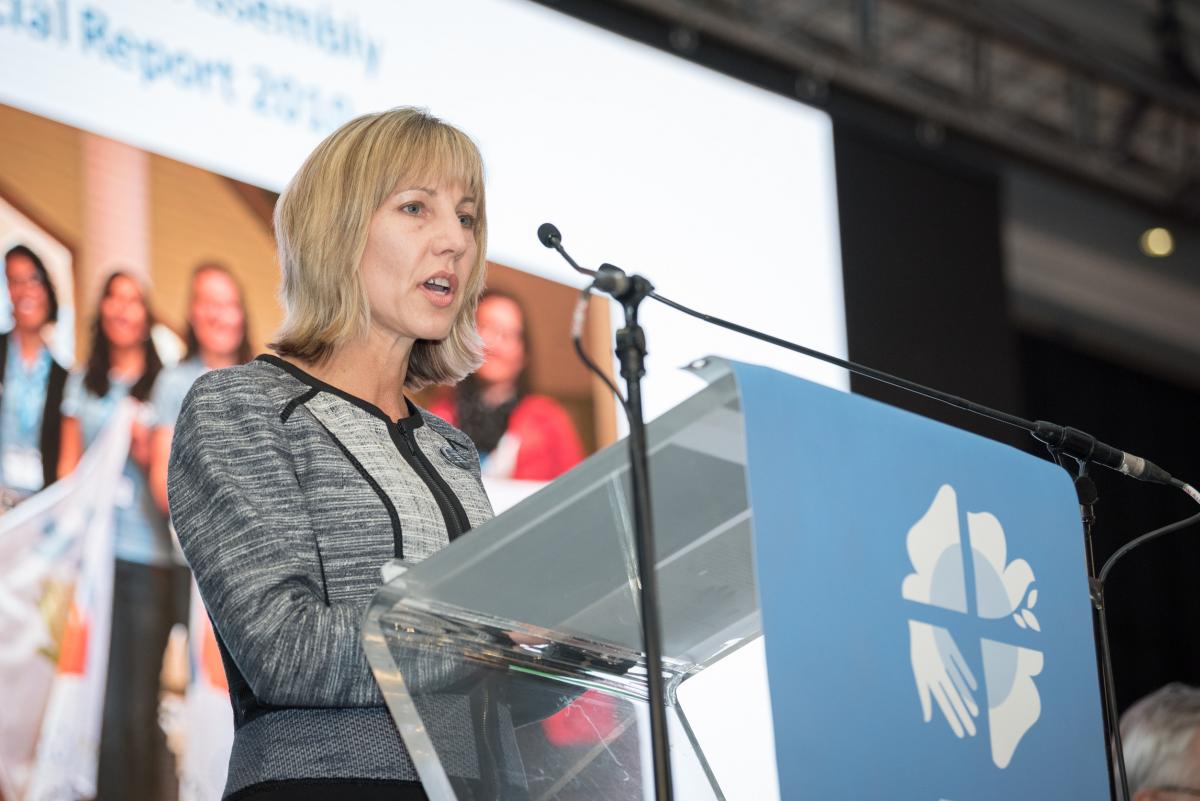 Finance chairperson Jackson-Skelton thanks member churches for "faithful support"
WINDHOEK, Namibia/GENEVA, 11 May 2017 (LWI) - The Lutheran World Federation (LWF) can look back on seven years of increased growth in total financial resources during a period of financial challenges worldwide.
The LWF Finance Committee Chairperson Ms Christina Jackson-Skelton gave this synopsis in her report to the Twelfth Assembly meeting in Windhoek, Namibia. She noted, "At a time when many churches and church-related organizations faced financial challenges, we can look back with gratitude for the growth in LWF resources."
The LWF has been able "to deliver on its mission because of the faithful support of member churches, their related organizations, and ecumenical partners. Together, we are more than funding partners," said Jackson-Skelton, Executive Director for Mission Advancement at the Evangelical Lutheran Church in America, where she serves as President of the church's Endowment Fund.
Income and expenditure
The finance chairperson said that despite declining income from some traditional donors and unfavourable currency exchange fluctuations, LWF's total annual income grew from EUR 76 million in 2010 to reach EUR 151 million in 2016, an increase of EUR 74 million, or 98 percent. The overall annual expenditure grew from EUR 75 million to EUR 140 million.
The cumulative total income from 2010 to 2016 was EUR 779.3 million, and EUR 746 million was spent to implement the Communion's strategic priorities.
A total of EUR 11 million or 2 percent went to theological, ecumenical, interfaith and global advocacy work through the Department for Theology and Public Witness. EUR 55 million or seven percent was earmarked to strengthening the member churches' capacity for holistic mission and communion building through the Department for Mission and Development.
Humanitarian response and development work carried out by World Service took up EUR 520 million or 70 percent, and EUR 143 million or 19 percent, was spent for the LWF-run Augusta Victoria Hospital (AVH) in East Jerusalem.
Organizational support provided by the Department for Planning and Operations, General Secretary's Office and LWF Governance, accounted for EUR 17 million or two percent over the six-year period.
Increased funding designated for LWF's humanitarian response and revenue from expanded patient services provided by AVH drove most of the growth, which was partially offset by a decline in revenue for the work of Mission and Development.
Risks and sustainability
Jackson-Skelton cited a new funding strategy, the establishment of a resource mobilization office, and initiation of a long-term sustainability project  as some of the critical measures taken by the LWF to respond to the financial challenges.
She thanked the Communion Office leadership team for "a systematic, disciplined and proactive approach that has successfully managed key risks," including heavy exchange rate losses, income fluctuations and high operational costs.
Membership fee contributions
A fair membership fee policy makes it possible for all member churches, big or small, and in any part of the world, to be full stakeholders in the life and work of the LWF communion.
For the period 2010 – 2016, the membership fees amounted to a total of EUR 16.8 million, with yearly contributions varying between EUR 2.3 million and EUR 2.6 million. The number of churches paying their annual fair membership fluctuated between 85 and 115 over the same period.
Endowment Fund
The LWF Endowment Fund, which was established in 1999 to help secure a financially sustainable future for the organization had garnered total contributions of CHF 14.58 million through 2016 against a goal of CHF 20 million by 2017. A revised distribution policy for the fund helps to safeguard the ambition of yearly distributions of its earnings to support LWF programs.