07 May 2017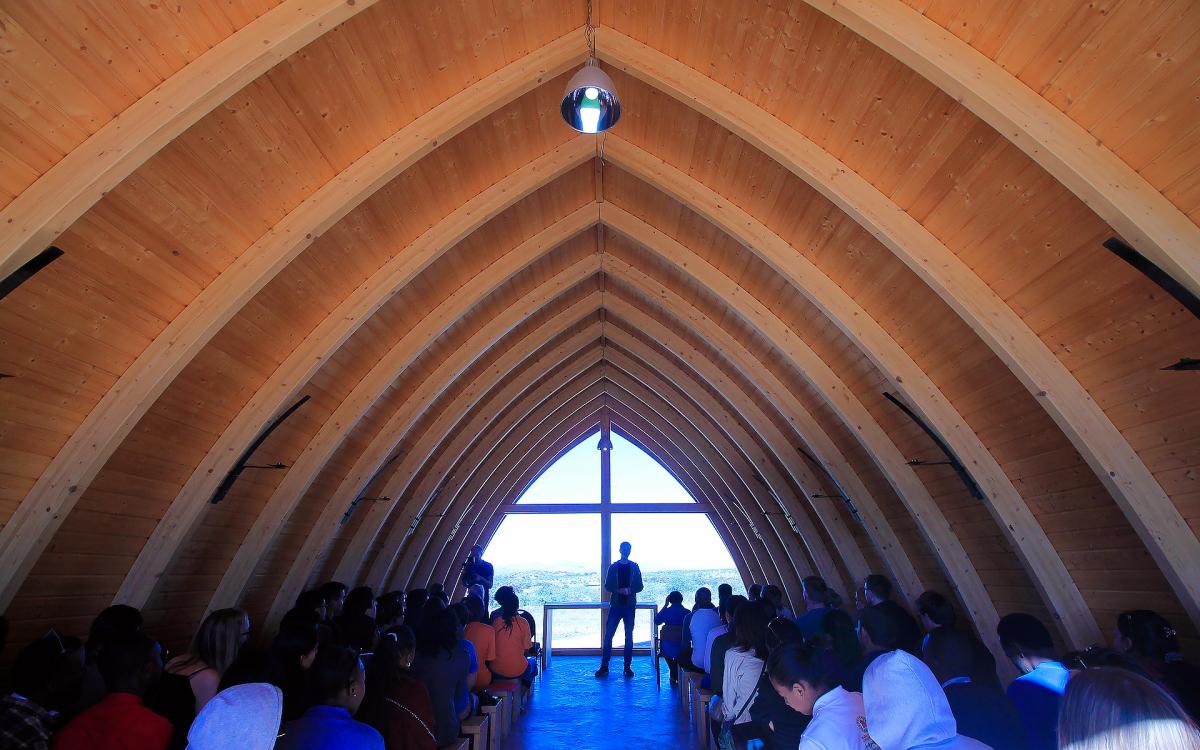 Worship, Holy Communion and  and reflecting on the Bible readings together play a central role in the life of The Lutheran World Federation (LWF) Assembly. Adapting this practice to Namibia's  context, the LWF Twelfth Assembly Worship Coordinator Prof. Dr Dirk Lange calls it "gathering under the tree." 
He worked closely with the International Worship Planning Committee, which developed the liturgies and outlines for the services taking place during the assembly in Windhoek, Namibia, 10-16 May.
"During the Assembly, we gather daily for worship," Lange explains. "We gather under the tree, as is customary in much of Namibia, to tell the stories of our faith. Trees are God's gift to us, at the heart of creation. The tree is the cross upon which hung the Savior of the world. The cross is also the tree of life."
During the Assembly, a special  tent at the conference venue will be the meeting point for many of the worship services and prayers. "The tree in the worship tent provides a focal point for the liturgy. The altar table, font and pulpit are also made of wood from fallen trees, collected in Namibia," adds Lange, an associate professor of worship at Luther Seminary, St Paul, Minnesota, United States.
Starting and ending the day before God
Each day starts before God – afterwards participants face each other and the world. Each day also ends before God, coming back to the place of worship for prayer. Holy Communion will be celebrated at the opening worship, during evening prayer on Friday, at the Sunday worship service to commemorate the 500th anniversary of the Reformation, and at the closing worship.
Movement from the worship tent to the plenary hall in a procession will be an integral part of morning worship. It will mark the transition from prayer to the study of God's Word. Special attention has been given to link worship to Bible study; for example, the choice of biblical texts will be connected to the theme of the day. Bible studies will be presented by theologians from across the communion.
Sermons from Namibia, Russia, and the United States
The eucharistic opening  service will take place in the worship tent. The sermon will be delivered by Rev. Dr Elena Bondarenko from the Evangelical Lutheran Church of European Russia.
Rev. Lydia Posselt from the Evangelical Lutheran Church in America, winner of the LWF Assembly preaching contest, will deliver the sermon at the closing worship, during which the newly- elected LWF President and LWF Council will be  installed..
The global commemoration of the 500th anniversary of the Reformation is one of the highlights of the Twelfth Assembly. Assembly participants from all over the world will join members of the Lutheran churches in Namibia and ecumenical guests in the event. The service will take place on Sunday, 14 May, at the Sam Nujoma Stadium, which can accommodate up to 10,000 people.
Bishop emeritus Dr Zephania Kameeta, former LWF Vice-President for Africa, will preach on the Assembly theme, "Liberated by God's Grace." He is currently the Minister of Poverty Eradication and Social Welfare in Namibia.
Worship and the anniversary commemoration service on Sunday will be broadcast live via web stream and  thus accessible to the public worldwide.
Invitation to singing rehearsals
Singing is an integral part of all services and an enjoyable activity to share contributions from various contexts. Therefore, singing practices are offered throughout the Assembly in the worship tent. Delegates and visitors are invited to participate in the rehearsals as their daily schedules permit. The schedule is as follows:
• 9 May 17:00-19:00
• 10 May 10:00-11:30, 14:00-15:00
• 11 May 10:00-11:30, 14:00-15:00
• 12 May 10:00-11:30, 14:00-16:00
• 13 May 10:00-11:30, 20:30-21:30
• 15 May 10:00-11:30, 14:00-15:00
• 16 May 10:00-11:30, 14:00-15:00