06 March 2015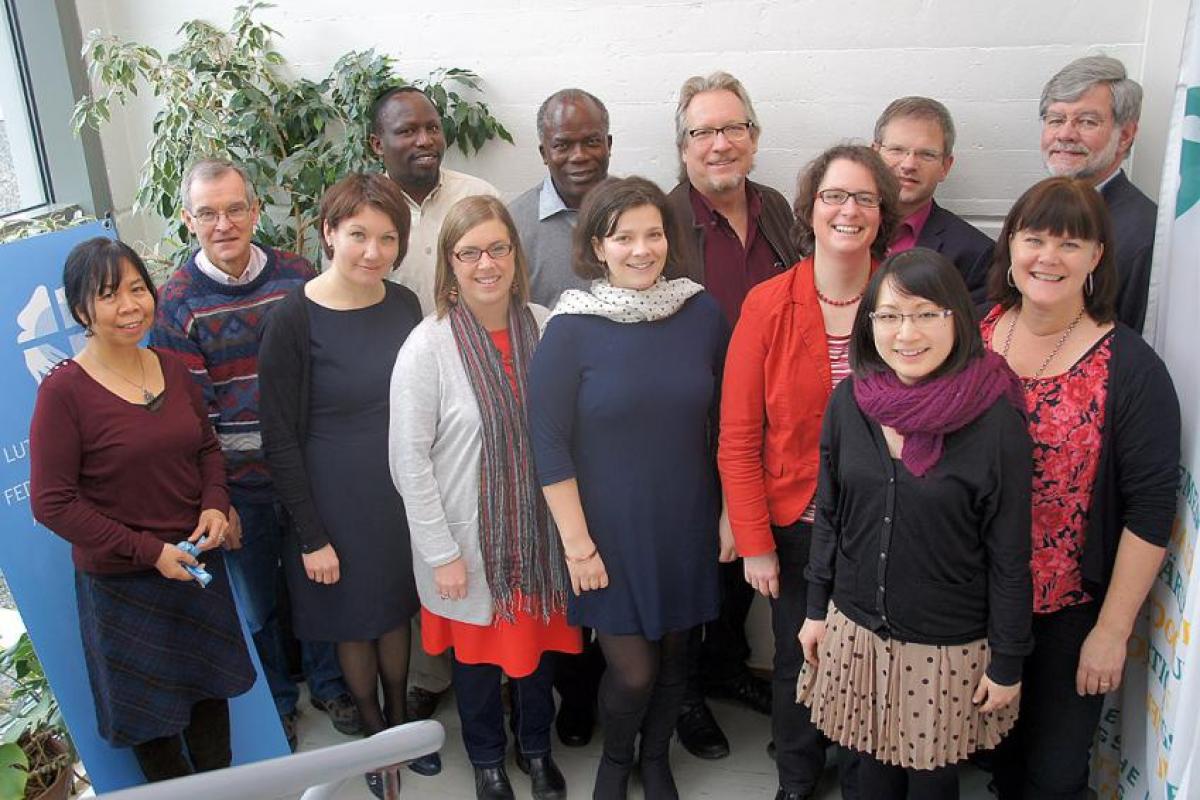 Articulating Assembly Theme in Bible Studies, Prayers and Hymns
(LWI) – The International Worship Planning Committee (IWPC) for the Twelfth Assembly of The Lutheran World Federation (LWF) has begun exploring how worship and prayer life will be organized at the next LWF assembly, to be held, 10-17 May 2017 in Windhoek, Namibia.
The eight-person team of liturgists, church musicians and pastors representing each of the seven LWF regions, two consultants and LWF staff, held their first meeting in Geneva, 2-6 March.
They discussed how the assembly theme, "Liberated by God's Grace" and its sub-themes would be articulated in worship services, Bible studies and devotions, prayers and hymns throughout the eight-day meeting hosted by the three Lutheran churches in Namibia. The committee identified Bible texts and possible songs from different regions.
As the assembly year coincides with the commemoration of the 500 years of the Reformation, the team also began to envision worship around the anniversary.
The IWPC was appointed by the LWF Council in June 2014. It is chaired by Canadian pastor Rev. Dr Stephen Larson, who also served at the English-speaking congregation of the Evangelical Lutheran Church of Geneva (ELCG), and in the Evangelical Lutheran Church in America.
Other members are Rev. Sonia Skupch, General Secretary of the Evangelical Church of the River Plate (IERP) in Argentina; Prof. Jochen Arnold, Evangelical Lutheran Church of Hanover (Germany); Rev. Lilla Molnàr, Evangelical Lutheran Church in Hungary; Ms Karin Runow, Church of Sweden; Michelle Mu Le Wong, Basel Christian Church of Malaysia; Rev. Seth Mesiaki Ole Sululu, Evangelical Lutheran Church in Tanzania; and Rev. Dr Martin Nelumbu, Evangelical Lutheran Church in Namibia (ELCIN).
It includes two consultants, ELCG music and choir director Rev. Dr Terry MacArthur, and Dr Sakari Löytty, a consultant for the Evangelical Lutheran Church of Finland, who previously worked with the ELCIN in developing new "African" liturgy.
The IWPC will present its draft report to the LWF Council in June this year.